A couple of months ago I had the pleasure to assist a live concert of La Tubatango at a local milonga. After half of their performance they just settled down in the middle of the dance floor and had the dancers dancing around them. Quite some fun to a fresh and happy sounding orchestra. La Tubatango is a kind of revival band of an older orchestra called Los Tubatango active from the late 1960s to the 1970s. A lot of people intermingle La Tubatango, the contemporary evocative orquestra and Los Tubatango which doesn't exist anymore. The focus in this post is on Los Tubatango.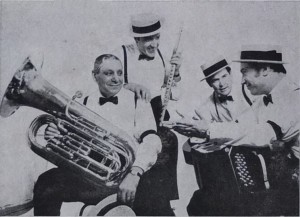 It was in 1967, in the aftermath of the Summer of Love, that the bandoneonist Guillermo Inchausty created the quite curious tango orchestra, first as a duet then as a quartet, known as Los Tubatango. Introducing a tuba into the tango genre and reducing the number of musicians to four. The tuba replaces the double bass, the other instruments are a bandoneon, a transverse flute and a guitar. During the late 1960s and 1970s they recorded around ten long-play records with the label Music-Hall Argentina (this sums up to around 100 tango recordings). All recordings are "monofonico".
There are very few of their tangos republished on Compact Disc. The only official one I know is the BATC "Una Noche De Garufa" which contains barely 16 titles of the approximately 100 recordings. It's also amazing that this orchestra has been created in a period where tango was supposed to be in a zombie state. Maybe one of the keys to their success has been their 1900 vintage look and sound which has been very popular in the 1970s. Their first 2 LP albums have been published in the same year, just a couple of months in between. What a success!
I like their sound for afternoon and openair milongas. They sound "park-like". I always associate them with Sergent Pepper's Lonely Hearts Club Band.
If you have seen the movie Yellow Submarine, you know what I'm talking about.
Their first album has been released in May 1968 and contains 12 tangos. The title of the debut LP is "Tangos Del Tiempo Perdido", MH-733
Lado 1
1. El romantico – Tango – (Arturo de Bassi) – 2:20 – 1968
2. Papas calientes – Milonga – (E. Arolas) – 1:52 – 1968
3. Dede – Tango – (Mauricio Montiano) – 2:47 – 1968
4. Ciudad de Cordoba – Vals – (A. Chazaretta) – 2:38 – 1968
5. La refalosa – Polca – (Francisco Canaro) – 1:46 – 1968
6. Recordando el 900 – Tango – (Francisco Canaro) – 2:43 – 1968
Lado 2
1. El Once (A divertirse) – Tango – (Osvaldo Fresedo-Emilio Fresedo) – 2:24 – 1968
2. Sacale Punta – Milonga tangueanda – (O. Donato-S. Gómez) – 2:10 – 1968
3. Yunta brava – Tango – (Á. Villoldo-A. Polito-Carlos Pesce) – 2:40 – 1968
4. Maria Esther – Vals – (Juan Maglio "Pacho"-Juan R. Falchi) – 2:37 – 1968
5. Mordeme la oreja izquierda – Tango – (E. M. Alarcón) – 2:15 – 1968
6. La cara de la luna – Tango – (Campoamor) – 2:07 – 1968
The second record "Bailonga" was also recorded and published in 1968, MH-2035 (serie discoteca)
Lado 1
1. Sacame una pelicula gordito – Tango – (Ángel Villoldo) – 2:09 – 1968
2. Naipe marcado – Milonga tangueada – (Ángel Greco) – 2:18 – 1968
3. Luisito – Tango – (D. Fortunato) – 2:19 – 1968
4. Santiago del Estero – Vals – (Andrés Chazarreta) – 3:01 -1968
5. La biblioteca – Tango – (Augusto P. Berto) – 2:34 – 1968
6. Una noche de garufa – Tango – (Eduardo Arolas) 2:17 – 1968
Lado 2
1. El 16 – Tango – (Albérico Espátola) – 2:17 – 1968
2. Catamarca – Tango – (Eduardo Arolas-Jesús Fernández Blanco) – 2:18 -1968
3. Bailonga – Milonga – (Mariano Mores) – 2:22 -1968
4. El criollo – Tango lancero – (Eugenio Alarcón) – 2:17 – 1968
5. En el lago de Palermo – Polca – (Julio De Caro) – 1:29 – 1968
6. Pabellon de las rosas – Vals – (José Felipetti-Angela M. Felipetti-Antonio Catania) – 2:43 – 1968
The third record "En Lo De Hansen", MH-2071 (serie discoteca) might have been recorded around 1970
Lado 1
1. La cumparsita – Tango – (M. Rodríguez-P. Contursi) – 2:36
2. Porteña linda – Milonga tangueada – (Edgardo Donato-H. Sanguinetti) – 2:16
3. Bar El Popular – Tango – (Alfredo Bevilacqua) – 2:08
4. Tubatangueando – Tango – (Guillermo Faustino Inchausty) – 2:11 – 15/09/1970
5. La correntada – Tango – (José Martínez) – 2:10
6. Francia – Vals – (Octavio Barbero-Carlos Pesce) – 3:00
Lado 2
1. El pensamiento – Tango – (José Martínez-Francisco García) – 2:11
2. El periodista – Tango – (Augusto P. Berto) – 2:15
3. Recuerdos de la Pampa – Tango – (Alfredo Bevilacqua) – 2:11
4. A punto y taco – Milonga tangueada – (José Carli) – 2:07 – 17/06/1970
5. El pinchazo – Tango – (Ángel Villoldo) – 2:06
6. La cabeza del italiano – Tango – (Francisco Bastardi-Antonio Scatasso) – 2:34
Later Guillermo Inchausty replaced all musicians and recorded the album "Tubatangueando En El Palais De Glace", MH-2161 (serie discoteca) (but at least the Milonga "Platina" could still have been recorded with the old formation of the orchesta), it was probably released in 1972
Lado 1
1. El cuzquito – Tango – (Vincente Greco-José Arolas) – 3:26
2. Mi esclava – Tango – (Juan Rodríguez) – 2:53
3. Pura sangre – Tango – (Adolfo Rosquellas) – 3:10
4. Platina – Milonga – (Guillermo F. Inchausty) – 1:54 – 02/07/1970
5. El verde – Tango – (Carlos Minotti-Antonio Polito) 2:05
6. Un aplauso – Tango – (Antonio Polito) – 2:33 – 05/04/1972
Lado 2
1. Zorro gris – Tango – (Rafael Tuegols-F. García Jiménez) – 2:02
2. Alfredo – Tango – (Fumberto Canaro) – 3:13
3. Que me contas Guillermo – Tango – (José Carli) – 2:07 – 19/03/1970
4. Amelia – Vals – (Julio De Caro) – 2:36
5. Palospavos – Tango – (Miguel La Salvia) – 2:13
6. Alma de bohemio – Tango – (Roberto Firpo-Juan A. Caruso) – 2:45
The album "Cuarteto De Tango Los Tubatango" MH-2411 (serie discoteca) could have been published in 1974 (the album has a copyright ℗ 1973 mention, the sound recording copyright symbol is the symbol ℗ which is used to designate copyright in a sound recording, but the included tango "Bien añejo" is listed as recorded in 1974 in the SADAIC online database, so most probably the record was published in 1974)
Lado 1
1. El 13 – Tango – (Ángel Villoldo-Alberico Spátola)
2. Antañero – Tango – (Jorge Dragone)
3. Alma en peña – Tango – (Francisco García Jiménez-Anselmo Aieta)
4. Pebeta sin nombre – Vals – (Guillermo Inchausty) – 18/09/1972
5. La trampera – Milonga – (Aníbal Troilo)
6. Bailarin de San Telmo – Tango – (Orlando Calautti-Américo Cardinale)
7. Bien trajeado – Tango – (Felipe Villa-Ovaldo Evaristo Bruso)
Lado 2
1. Racing Club – Tango – (Vincente Greco-Julián Porteño)
2. Bien añejo – Tango – (Juan Cruz-Armando Lacava) – 16/05/1974
3. El malevo – Tango – (Mario Castro-Julio De Caro)
4. Tu, siempre tu – Vals – (José Antonio Orlando)
5. Cuarteto de tango – Tango – (Rodolfo De Forte-Guillermo Inchausty-Leopoldo Diaz Vélez) – 28/12/1972
6. No mezquines el cutis al vaporizador – Tango – (Orfeo D. Giúdice)
7. Por los palos – Tango – (Juan Cruz-Lilo Yubero-Rodolfo De Forte) – 09/03/1973
As you can see most of the titles are from the Guardia Vieja repertoire and some are genuine compositions. I haven't heard them all yet but it seems they are all instrumental. Where is my record player again … ? Probably the most hippy tango orchestra of all 😉
Here are three sound samples from my vinyl transfers, transcoded from FLAC into MP3 medium quality:
Los Tubatango: Porteña linda – Milonga tangueada – (Edgardo Donato-H. Sanguinetti) – 1970
Los Tubatango:  Sacale Punta – Milonga tangueanda – (O. Donato-S. Gómez) – 1968
Los Tubatango:  Papas calientes – Milonga – (E. Arolas) – 1968